Content integrations
Edflex
Create a lasting digital ecosystem with the best web resources all of your learning needs
Get a demo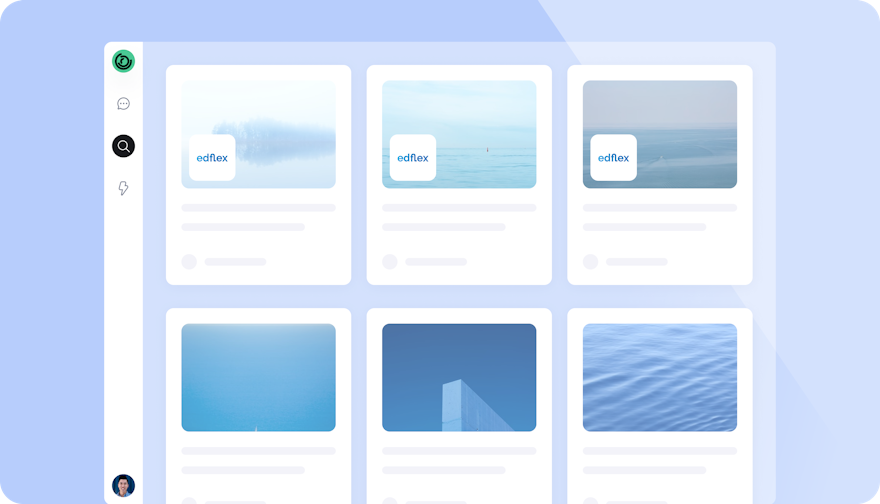 Curate and contextualize Edflex resources to meet learning needs and save time
Enrich your learning catalog with 50,000+ resources
Seamlessly search and access learning resources to develop your teams' skills
Attract talent by adding value to your employer brand, encouraging informal learning and autonomy
Drive performance and measure the impact of informal and formal learning
Overview
Edflex enables you to centralize the best resources for informal learning–whether podcasts, articles, videos, or MOOC. When you integrate Edflex with 360Learning, you make it easy for your team to access personalized, informal learning resources alongside your learning catalog.
Curate and contextualize Edflex resources to meet learning needs and save time
Draw a direct line from best practice to practical application by curating Edflex resources in learning programs. Add a short introduction or curate multiple resources to connect learning opportunities from around the web to your day-to-day business context. 
Enrich your learning catalog with 50,000+ resources
Edflex helps you to build a new learner experience. With 50,000+  resources updated monthly across soft skills, leadership, technology, culture, and more, your learners will have access to a curated set of learning resources to meet their individual needs.
Seamlessly search and access learning resources
Your learners know their learning needs best. Empower them to proactively pursue informal learning opportunities by putting resources from around the web at their fingertips.  A powerful search engine offers you access to thousands of chosen resources to develop your teams' skills.
Attract talent by adding value to your employer brand, encouraging informal learning and autonomy
By encouraging informal learning and autonomy within the company, support the emergence of new skills and foster talent development.
Drive performance and measure the impact of informal and formal learning
Bring analytics together in one place so you have a holistic view of informal and formal learning. Drill down into the results to uncover insights and opportunities.