This additional feature boosts the utility of their product and increases the urgency for HR teams that are interested in managing the health and safety needs of their employees.
Creating more flexible learning and development strategies
Traditional L&D departments are used to having a long runway to conduct training needs assessments and create content. With our current situation changing so quickly, organizations need the flexibility to pivot strategy in order to confront new challenges.

For many, this means swapping the typical top-down learning management strategy in favor of a more collaborative one. Lauren Fernandez, senior manager of learning and development at Flexport, talked us through the company's approach, which is a hybrid of centralized and decentralized learning.
At Flexport, each department has a designated functional leader who determines the needs for their department and sets learning goals. The centralized L&D department provides support in the form of LMS training and analytics, guidelines, standards, and best practices. This strategy lets them ensure the quality of educational programs for the company's 2,000 employees while also letting departments pivot based on each unit's priorities and challenges.

Flexibility is also the key to success for the L&D department at MCI Group, which provides event services for both live and digital events. With live events taking a back seat for the foreseeable future, the company has had to quickly ramp up their resources for supporting online events.

In an interview, Avinash Chandarana, Global L&D director at MCI Group, explained how his department is reassessing priorities to best support employees in developing the skills they need to work and produce online events remotely. To do this, Chandarana and his staff are asking what competencies and skills employees need to make this transition.
As the department rethinks the ways that it can add the most value to the company at the moment, they don't necessarily have time to create entirely new courses and curriculums. To facilitate a faster pivot, they are curating and refreshing their older content to shine a light on existing resources. They are able to dip into their micro-learning archives to curate the right resources to help employees right now.
Helping their teams get comfortable at home
The sudden transition to working remotely has been a huge adjustment for companies and employees.
Management has had to figure out the logistics of operating a distributed team while also supporting employees who are grappling with stress, uncertainty, and psychological isolation. Nobody is sure how long we'll have to do this, but it could be many months before we're together in a crowded office again.

Smart companies are helping their teams feel more comfortable with working remotely. Shopify is offering each of its 5,000 employees a $1,000 stipend to help them set up a comfortable home office. They also allowed employees to take home any equipment, such as monitors or keyboards, they needed to work productively at home. Twilio offered employees money to buy themselves a home desk and any work-from-home equipment.

Many companies are taking measures to understand the additional pressures their staff are under and are offering increased flexibility and psychological support. Here at 360Learning, and at many other companies we talked to, HR teams are creating online social activities, such as virtual yoga classes and pizza parties, to compensate for the lost face time between employees and, hopefully, to diminish the psychological isolation of lockdown.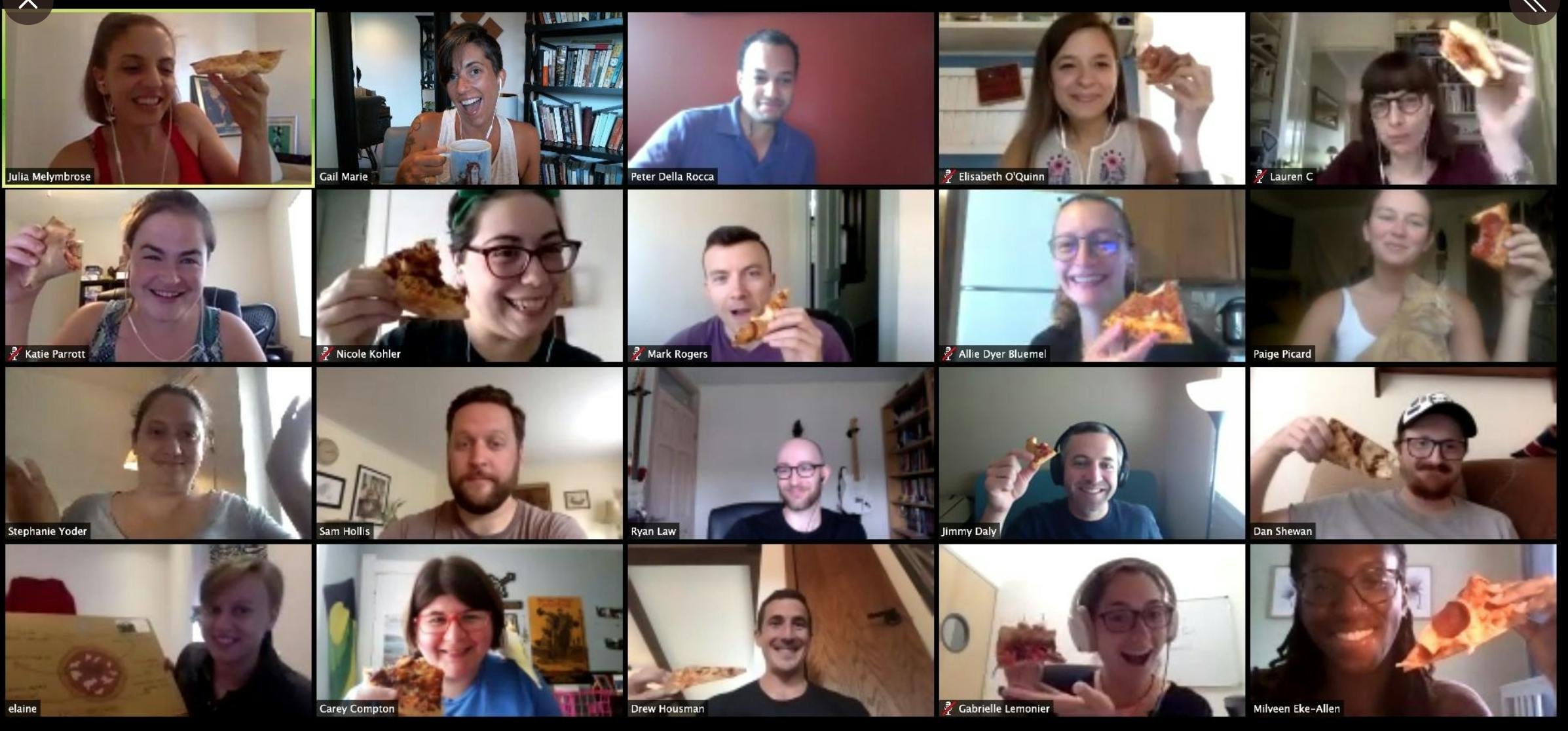 Some of these measures may seem like temporary stopgaps, but supporting employees through difficult times is essential to creating long-term loyalty and maintaining a cohesive culture even when employees can no longer eat lunch together or grab a beer after work.
Join the Get Ready movement
We don't know exactly what the future will look like post-COVID-19. There are so many things that we can't control right now. The only thing we can do is to Get Ready.
We want to help you get your business prepared through Get Ready's three pillars of Adapt, Learn, and Train.
Adapt: A web-series that follows five SaaS employees each week as they adapt to their new normal.
Plan: A series of interviews with L&D experts profiling their strategies for learning during these tumultuous times.
Train: Webinars on adapting to remote work and training.
Sign up for our Get Ready newsletter to stay apprised of new developments.

We also want you to join the conversation. Share your #GetReady stories on Instagram, Facebook, LinkedIn or Twitter and tag us. You might find yourself featured in our next newsletter.

This may not be how you expected your year to turn out, but together, we can come out of 2020 stronger, better, and smarter. Our movement is about adopting a proactive mindset, where we don't just react to new challenges but also embrace them and ultimately become a stronger company.